In this post, I will demonstrate how to create a small LEGO city by starting with just two expert modular buildings. You read that right! It is possible to create a LEGO city display with just two modular buildings.
To be honest, based on the size, this is more of a LEGO street or block but it is scalable to expand to a full city. The purpose of this demonstration is to show how it is possible to create an extremely textured and great-looking LEGO "city" in a small space that can look even better than a large city that fills a basement.
This display is designed to be set against a wall to save space and represents a snapshot cross-section of a city.
Here is how to create a stunning LEGO mini-city in 6 steps.
For purposes of this demonstration, the two modular buildings that will be used are the Brick Bank and the Detective's Office.
I chose these two buildings because each building comprises of more than just one type of building/ business. If you have the Assembly Square, that would work well too, although note that it measures 1 1/2 base plates in width.
Step 1 – Setting the LEGO Modular Buildings
The most natural and intuitive way to set both these buildings is to place them against each other, side by side, and then set standard road plates around the buildings.
However, for this mini city display, I suggest an alternative set-up. Place them next to each other but 8 studs apart from each other. Place the Brick Bank on the left and the Detective's Office on the right.
You will now create an alley from grey base plates that measure 8 studs wide. As LEGO does not produce a 8 x 32-stud base plate, you can use the 8 x 16-stud base plates that are available in some older sets. Or, you can custom-make one from a standard 32 x 32-stud base plate.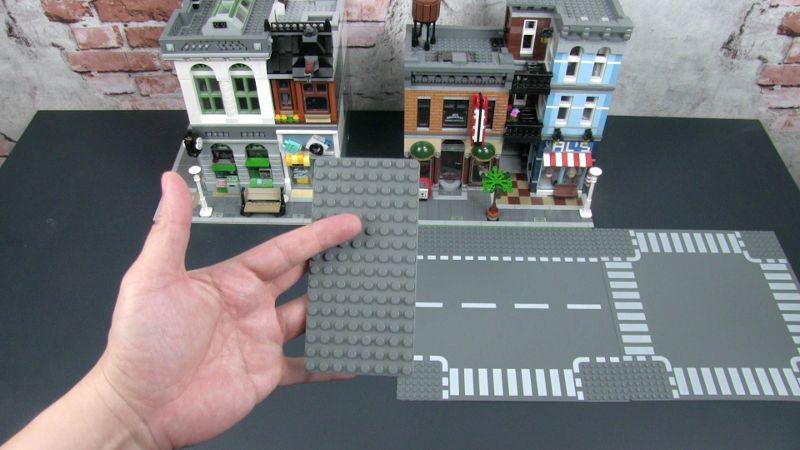 Check out the video below on how to custom cut LEGO base plates and check the comments on the YouTube page to see great alternative suggestions from subscribers.
Place the 8 x 32-stud base plate between the two modular buildings to form an alley.
Step 2 – Setting LEGO Road Plates
To create the feeling of a city street, you will need a couple of road plates to set around the buildings.
Lay six road base plates around the buildings. You can use any road plate design you like and that makes sense to you.
Note, there will be a 8-stud gap created by the alley so you will need to cut a road plate that is 8 studs wide to fill in the space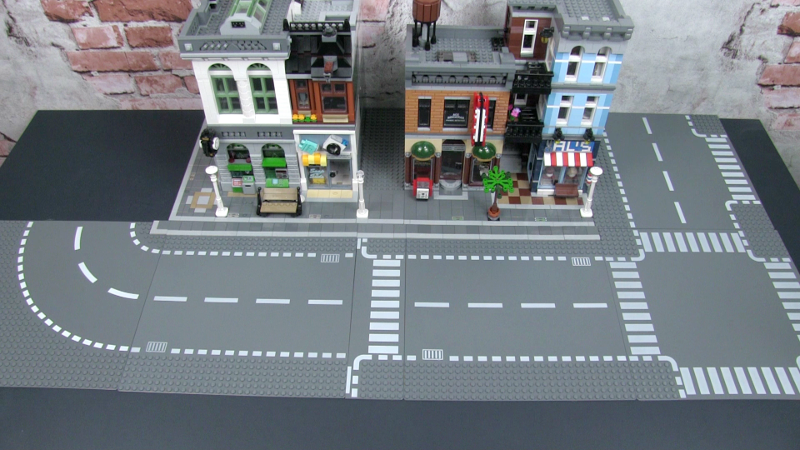 Step 3 – Create an Extended Sidewalk
The road plates have a 6-stud width of studs along the edges. You will cover half of these with tiles to form an extended sidewalk.
First, remove the light grey 1 x something tiles that represent the sidewalk curb from the two modular buildings. Replace these with dark grey 1 x something tiles.
Take the light grey tiles from the two modular buildings and place them onto the 3rd stud of the road plate to relocate the sidewalk curb. Add 2 x 2 dark grey tiles to cover the studs on the road plates behind the new sidewalk curb (light grey 1 x something tiles).
This modification creates an expanded sidewalk that will allow you to add lots of activity throughout the mini-city.
This is a perfect opportunity to utilize builds from various polybag sets, people pack sets and creator city sets that LEGO has put out over the years. You can also custom-build some MOCs (my own creations) to add the detail.
Step 4 – Add Small Builds and Details
Place different small builds throughout the extended sidewalk to create varied activity throughout the mini-city.
I choose a bus stop and a variety of food and market stalls. I also added in a dumpster and cleaning crew in the alley.
Once you decide on the positions of these small builds, you will need to replace some of the tiles with dark grey jumper plates or plates so that these small builds can be attached down securely.
In addition, increase detail and realism to the mini-city by adding different small city builds throughout the display. These include:
Fire Hydrants
Road Signs
Trash Bins
Trees & Plants
Mail Boxes
Newspaper Boxes
Lampposts
Benches
Place these small builds at logical locations throughout the display and as before, you will have to switch out some dark grey tiles for jumper plates or plates to hold the builds.
Step 5 – Add Vehicles & MiniFigures
Add a variety of vehicles to the road plates to fill them up. Be careful not too add too many so as to not overcrowd the display. Think of vehicles for this display as a "garnish" meant to enhance and add colour to a food dish.
MiniFigures are the heart of the city and bring life and bustle to a LEGO town. I suggest three to five MiniFigs per 32 x 32-stud base plate. Don't worry about which MiniFigs to put into the city although some would have a more obvious placement than others.
For example, the vendors for the various food and market stalls should match the respective stalls.
Once you have populated the mini-city, you can move to the final step.
Step 6 – Stage Interesting Scenes with the Different Elements in the Display
To complete the display, stage interesting scenes with the different small builds, vehicles and MiniFigs.
This is where your creativity and story-telling abilities will be tested.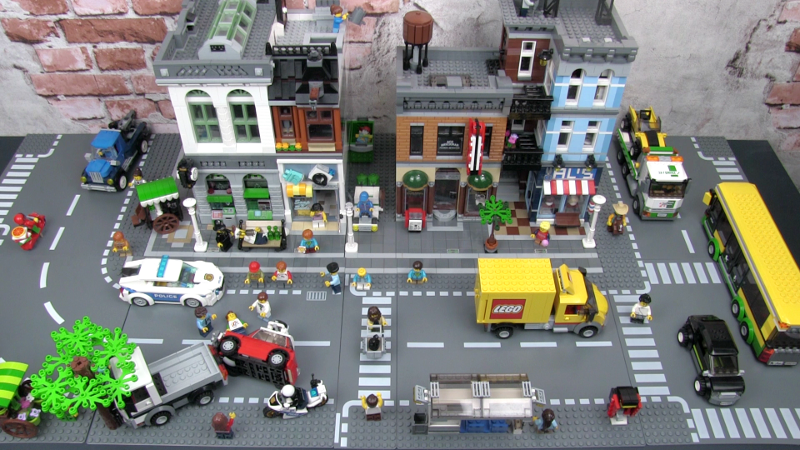 Watch a video on building a LEGO city starting with TWO LEGO modular buildings:
Expanding the Mini-City
The great thing about a layout concept as described is that it is scalable with more buildings to make your city unique. When you have more buildings, you can also replace the road plates with regular plates so that you end up with custom-sized roads.
Personally, if you are building a LEGO city in a small space, I suggest that the ratio of buildings to roads should ideally be 3:1. This means that you can and should cut down on the road plates in favour of buildings and small builds.
If you watched and enjoyed the video above, please subscribe to the Small Brick City YouTube channel and turn on the "bell" for truly unique & different LEGO content.
Small Brick City explores creating amazing Lego displays and custom cities with official sets, modified builds, MOCs (my own creations), small build video tutorials and how-to videos; with a focus on working with small spaces.
To purchase the critically acclaimed book, "Bricks for Small Places", visit: https://smallbrickcity.com/shop