To thank you for your time for being a tourist at Small Brick City, we have a few complimentary goodies for you.
MINI HOUSE VIDEO + BUILDING PLANS
First, watch an exclusive video and download FREE building instructions for an original design for a modular-style mini house (8 x 8 studs) that is MiniFig-scale.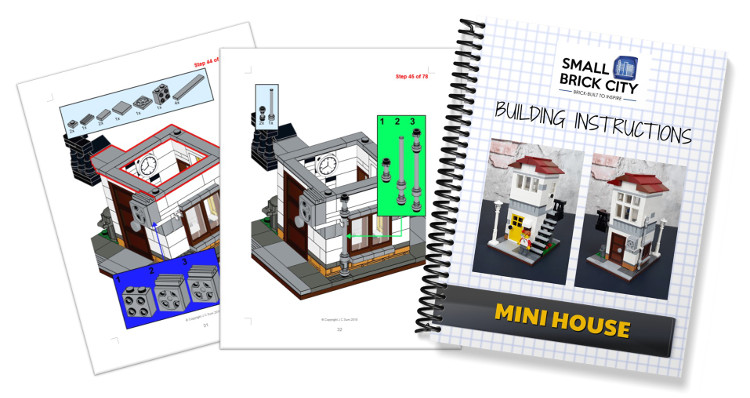 This mini house is detailed on the outside and inside. It features a 3-tone colour scheme for the exterior walls and a 2-tone pitch roof. The outside has a front window sill with awning and there is a side window which is offset outwards. There is also a water pipe running down the side of both floors and an air-conditioning compressor mounted on the wall at the back. The ground floor interior features a full-kitchen and the second floor holds the living quarters with a bed, toilet and shower.
This mini house can serve as a blueprint to create a mini LEGO city that I have detailed in a video here. You can use this mini house as a template and create your own block of mini houses to create a mini city block or an apartment complex as shown below.
The download includes a parts list in XML that can be uploaded to Bricklink.com so that you can order all the parts you need easily. Don't worry, all the instructions are included with the download.
MICRO CITYSCAPE BUILDING PLANS
You can also download building instructions to The Small Brick City "Micro Cityscape". This is a 3D brick-built interpretation of the Small Brick City Logo. Now, you can build it for your own custom LEGO city or LEGO collection.
Like the Mini House, the download includes a complete parts list.
FREE PREVIEW OF BOOK
Next, you can download a free preview of the book "Bricks for Small Places". It is a first-of-its-kind book that details how to create a spectacular LEGO city even if you do not have a large space.
Topics covered include design philosophy & principles, brick city planning, choosing your builds, building your city and an in-depth case study of a 62,000+ piece brick city built in a 6ft x 2ft area space. There are almost 250 photos on city layouts, official builds, MODs and MOCs.
LEGO CITY POSTERS
We have created a couple of original posters that you can print out for your LEGO city. These posters are sized to fit a 1 x 4 x 6 panel that you can mount on a door frame to create a billboard.
You will receive a variety of both portrait and landscape posters, so you can choose the best ones that fit your LEGO city.
SMALL BUILD TUTORIALS
We also have a number of video tutorials on small builds that are perfect for any brick city. The first free videos you will get are our original interpretations for:
A Film Crew – Main Camera with Dolly, Director's Chair & Monitor, Steady Cam and Grip (Boom Mic)
A Modern Fridge
A Heated Toilet
Join Small Brick City for FREE below to gain access to your free exclusive content immediately.